The TIS INTEC Group at a Glance
The TIS INTEC Group is a comprehensive IT corporate group supporting clients' IT-related operations from all angles.
The Group is active across various sectors and meets the broad-based needs of clients through dominant mobilization capabilities and diverse human resources.
Three Strengths of the TIS INTEC Group
Solid management platform
Dominant presence in payment services domain
Flexible management strategies and speedy decision-making thanks to independent status
TIS INTEC Group by the Numbers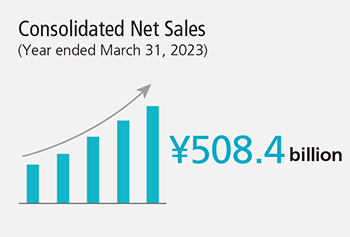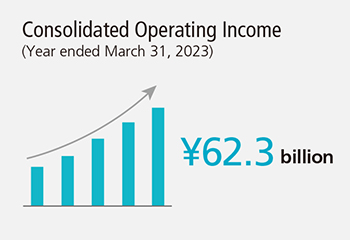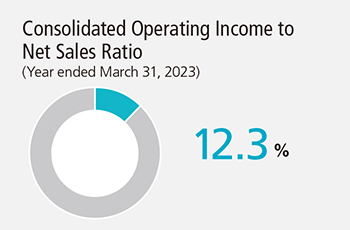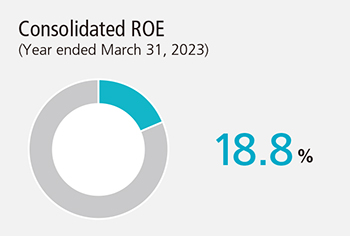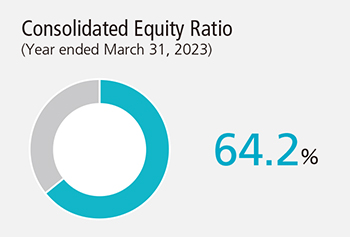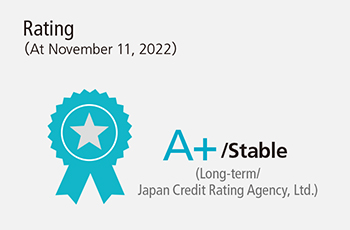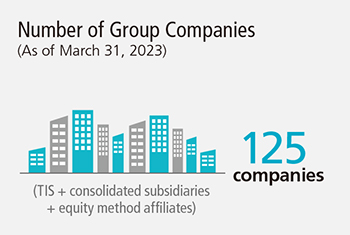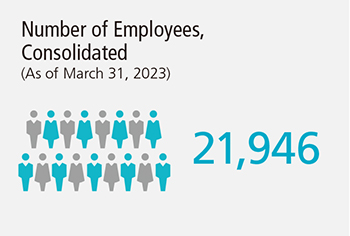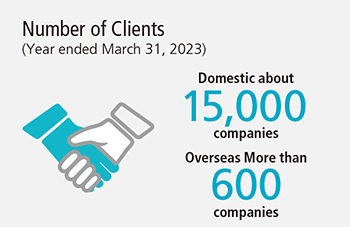 Group Formation

For other group companies, please refer to "TIS INTEC Group".
TIS INTEC Group Value Creation Process
The TIS INTEC Group was formed in April 2008 as a leading, independent corporate group in the information services industry.
TIS took advantage of its transition to an operating holding company in July 2016 to accelerate uni ed Group management and today the Company leads the Group toward realization of Group Vision 2026 and sustainable improvement in corporate value.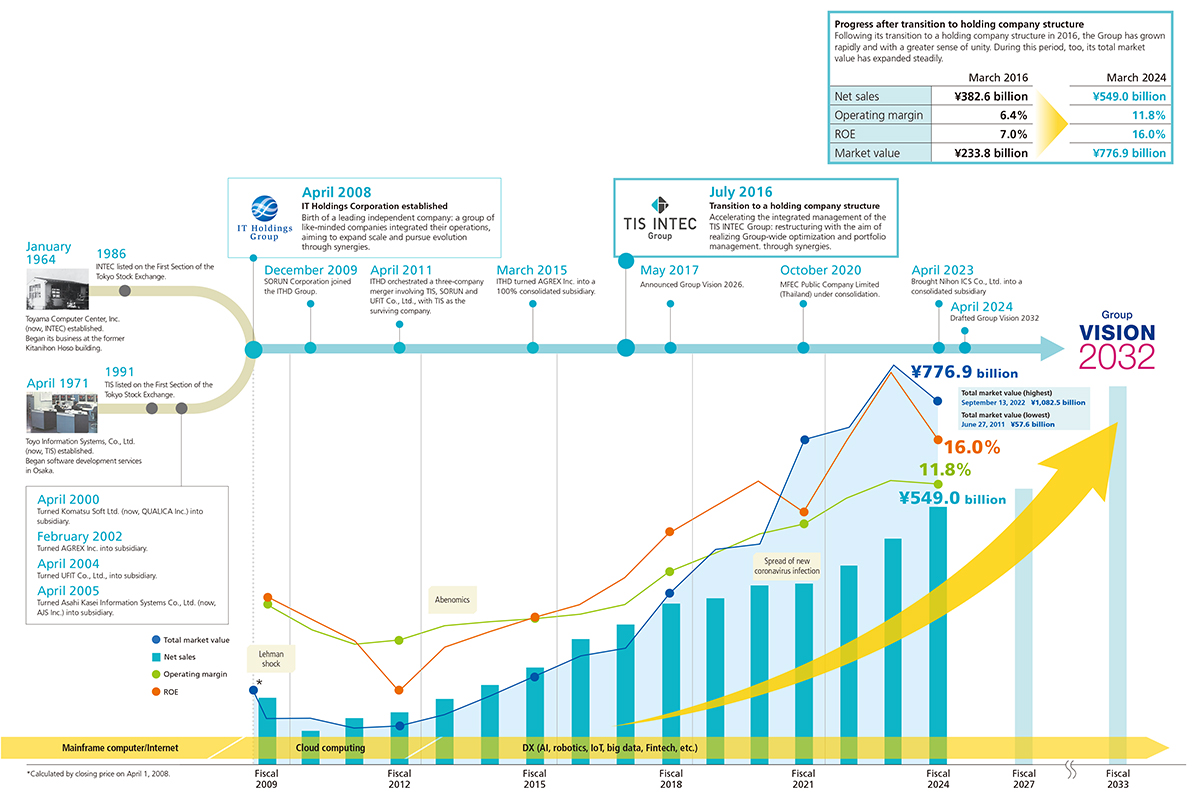 *Excerpt from "Integrated Report 2021"  P5,P6
IT Services Market Size
The information services industry, to which the TIS INTEC Group belongs, continues to see a gradual increase in demand. In 2020, the market showed 7% year-on-year growth, reaching a value of ¥12.9 trillion and establishing information services as an industry with a promising future to lead innovation and deliver solutions to social issues.
Going forward, with the number of companies embracing digital transformation (DX) on the rise, information service providers who support the DX process are likely to see further growth and wider market scale.
IT Services Industry Net Sales(Billions of yen)
Source: Materials created by Japan Information Technology Services Industry Association, based on Ministry of Economy, Trade and Industry economic census for business activity and survey of selected service industries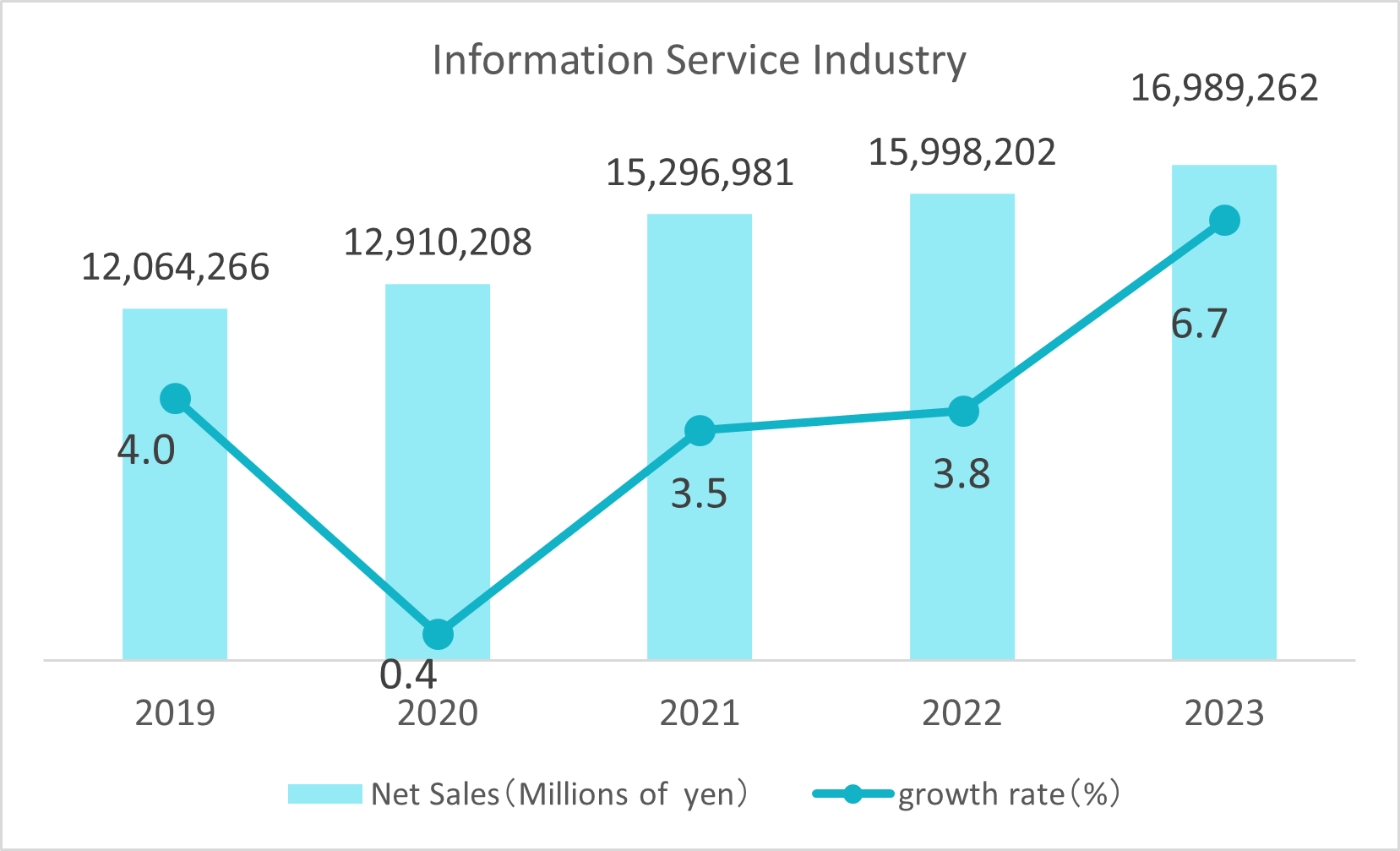 Positioning in the IT Services Market
TIS INTEC Group has cemented a position as a leading, independent prime contractor in Japan's IT services industry— a market that is expected to continue growing against a backdrop of robust corporate demand for digital technology.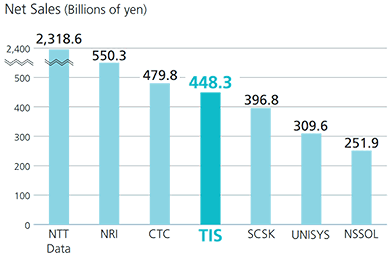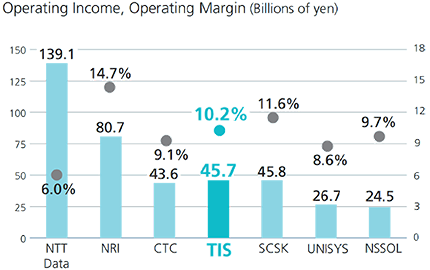 * The full company names used in the above graphs (NTT Data, NRI, CTC, SCSK, UNISYS, and NSSOL) are: NTT DATA Corporation, Nomura Research Institute, Ltd., ITOCHU Techno-Solutions Corporation, SCSK Corporation, Nihon Unisys, Ltd., and NS Solutions Corporation. NTT DATA, CTC, and SCSK amounts are based on the IFRS (International Financial Reporting Standards).
Examples of IT services in the TIS INTEC Group portfolio that help support clients' businesses, the lifestyles of individuals and social infrastructure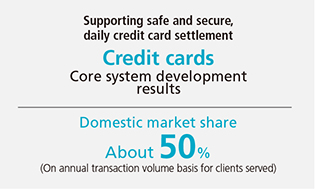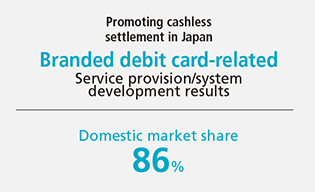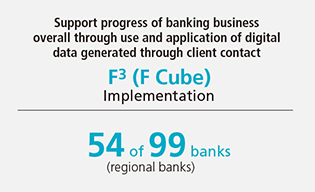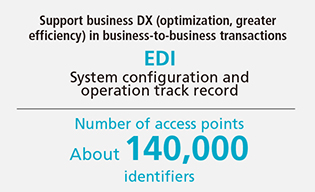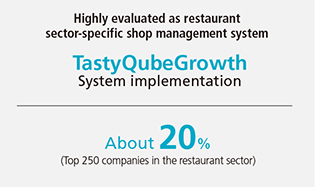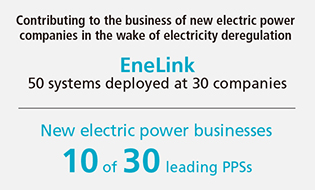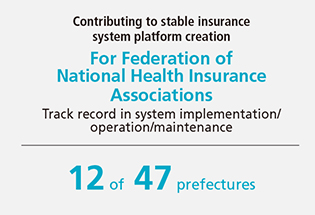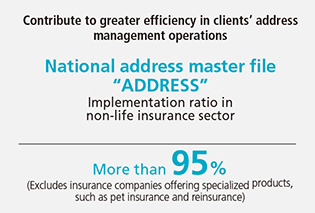 *For details, please go to "Integrated Report 2021" page 7.
TIS INTEC Group Value Creation Process
We will balance efforts to realize a sustainable society with efforts to achieve sustainable improvement in corporate value by leveraging unifi ed Group management.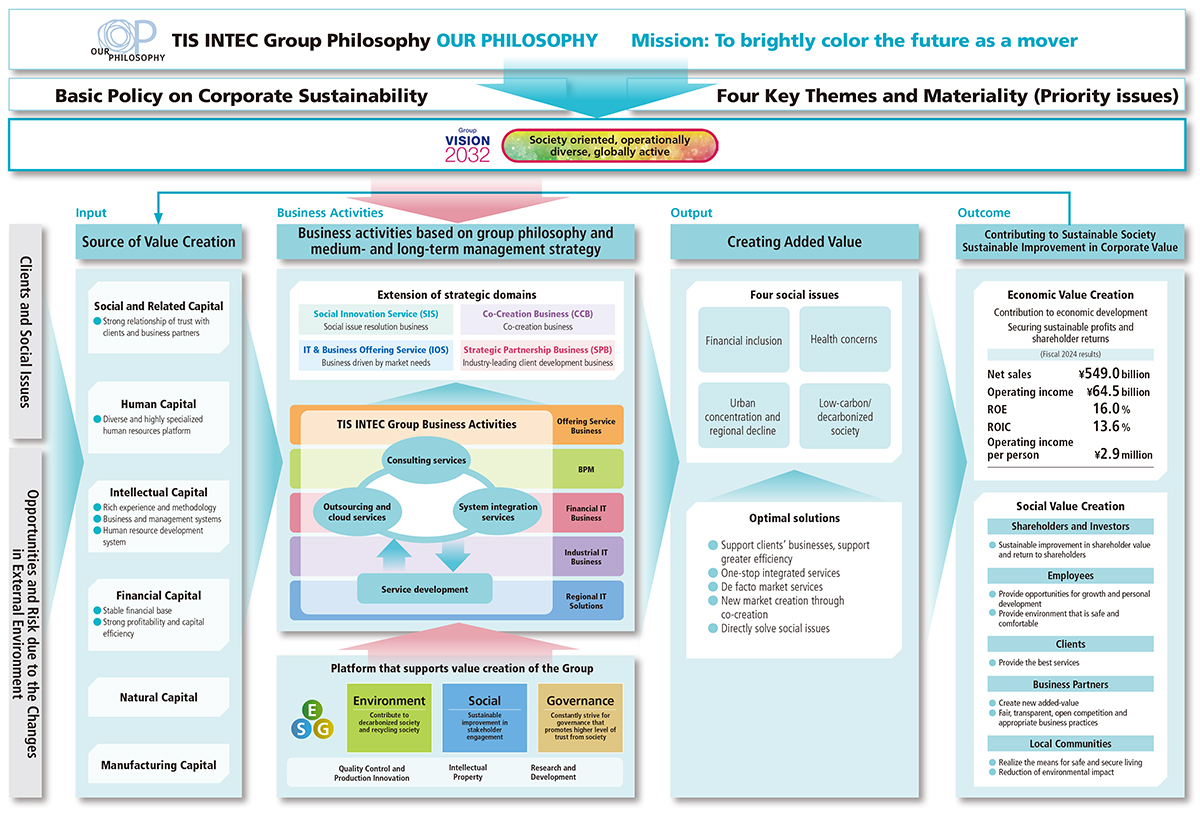 Business Activities and Composition of Sales by Business Segment
From the fiscal year ending March 31, 2023, TIS applied new management approach and changed business segment.
| | |
| --- | --- |
| Offering Service Business | Configures services through own investment based on best practices accumulated groupwide and provides knowledge-intensive IT services |
| Business Process Management | Addresses issues related to business processes with IT technology, business know-how and skilled human resources to provide more sophisticated, more efficient outsourcing services |
| Financial IT Business | Considers business and IT strategies together and leverages both, and supports business progress using expert business and operating know-how specific to the finance industry |
| Industrial IT Business | Considers business and IT strategies together and leverages both, and supports business progress using expert business and operating know-how specific to industry sectors other than finance |
| Regional IT Solutions | Provides IT professional services extensively, across regions and client sites, and collects and develops this know-how as the source of solutions to support efforts to address issues and promote business activities |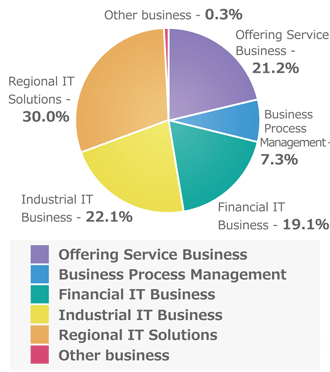 Composition of Net Sales by Client Sector