Top Message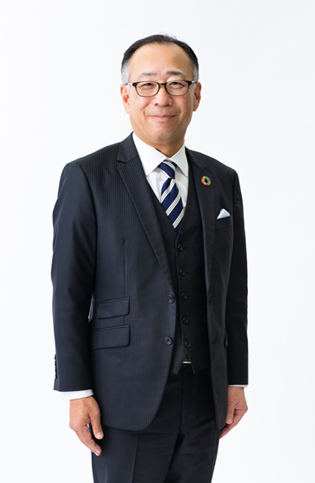 We have made solid progress on our medium-term management plan.
We will continue working to enhance the quality of our management.
On behalf of management at TIS, I would like to express my sincere appreciation to you, our valued shareholders and investors, for your continued support.
I would like to provide an overview of our performance in the fiscal year ended March 31, 2022 (fiscal 2022).
In fiscal 2022, the Japanese economy continued toward recovery despite the protracted harsh environment caused by the COVID-19 pandemic. Although the economic outlook remained unclear, in the information services industry, to which the Group belongs, a globally accelerating transformation of operation processes and business models utilizing digital transformation (DX) technologies is under way. Amid this situation, a further increase in IT investment demand is anticipated.
Amid this environment, to achieve further growth and realize the Group Vision 2026, the Group launched its medium-term management plan (2021-2023) and is promoting various measures to accelerate a shift in its business structure focused on enhancing value provided by DX.
As for our fiscal 2022 results, we surpassed our plan that was revised upward when we announced our first half results, achieving record high results. In addition, we have seen steady progress and accomplishments overall for our measures and ended the first year in a good place to achieve the medium-term management plan. Regarding the second year, fiscal 2023, we will work to enhance the quality of our management mainly through investment in our personnel, the most important management resource, and initiatives to "strengthen our front line," which remains a pivotal concept as we move forward.
Under sustainability management centered on OUR PHILOSOPHY, the Group strives to enhance shared value with our stakeholders by solving social issues through business activities and realizing more sophisticated management to meet social demands. In this way, we aim to both contribute to a sustainable society and enhance sustainable corporate value.
The continued support and encouragement of shareholders will, as always, be integral to our success.
July 2022



President