Issues Requiring a Response
As the adverse situation caused by the COVID-19 pandemic has gradually eased and a new working environment has become widely established, a close eye must be kept on various factors including supply-side constraints associated with growing uncertainty in the global economy and downside risks from raw material price trends.
Under these circumstances, the Group has grown in the domestic market, mainly in the payments field, by building and stably supporting the important corporate infrastructure underpinning the business, and through the provision of speedy service provision with flexible responsiveness. Furthermore, the Group recognizes that global value chain coordination may provide the driving force to rapidly accelerate such business, and have brought business speed up to levels seen overseas and combined that with the Group's strengths in Japan in order to bolster global competitiveness and establish a dominant position in the market.
In order to achieve further sustained growth, the Group recognizes the need to further enhance superiority in existing business areas in Japan and create and develop new businesses that will contribute to solving societal issues.
In light of the recognition of the business environment and the challenges outlined above, the Group aims to continuously expand its business and realize a sustainable society by enhancing value exchange with stakeholders in all directions, and has set four initiatives to focus on: "enhancement of value provided by DX", "expansion of global business", "sharpen skills and promote diversity among human resources", and "advancement of business management".
For information on the progress of each initiative during the current fiscal year, see "1. Results of Operations (1) Analysis of Consolidated Operating Results" on page 2.
1) Enhance provided digital transformation value
In the digital transformation area, the Company continuously work to expand business as a DX partner for its clients, focusing on the strengths cultivated by the Group, including Japan's top-level payment field, data analytics, AI, robotics, healthcare, and energy management, to help reform clients' current business processes and infrastructure, and even help to innovate their business itself.
"Promotion of co-creation with stakeholders", "enhancement of digital transformation consulting functions", and "enhancement of IT delivery" have been set as the initiatives necessary to improve the value of this DX offering.
In fiscal 2022, the Company continued to strategically allocate management resources and develop human resources to strengthen its upstream consulting function. Furthermore, the Company has expanded the value of DX offerings by making Fixel Inc. a subsidiary and enhancing support for the construction and operation of design systems for business companies through system UI/UX design consulting for enterprise customers.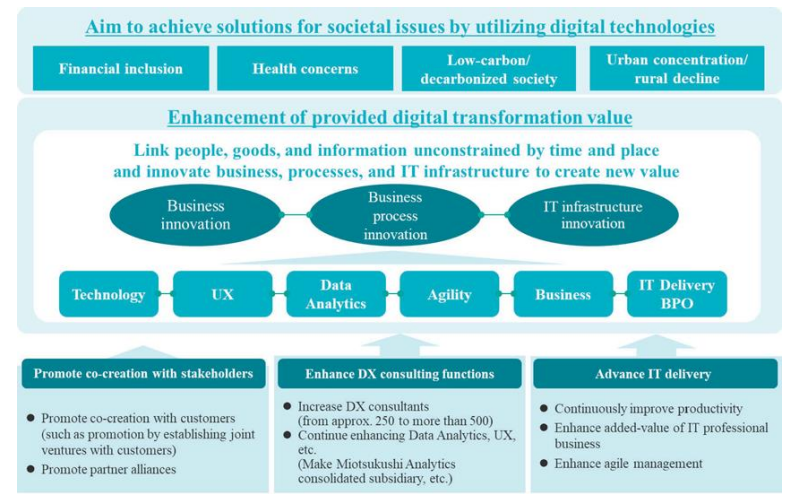 2) Deepening and expanding global management
Aiming to form an "ASEAN Top Class IT Syndicate" (consolidated net sales of ¥100 billion in fiscal 2026), the Group is expanding its business domain by making maximum use of alliances based on strategic investments based on the two core areas of "channels" and "technology", integrating the strengths of each company, and building and strengthening alliances that can cover the ASEAN region. Against this backdrop, consolidated subsidiary MFEC Public Company Limited is leveraging its position as a leading player in the provision of IT solutions for enterprises in Thailand to make good progress with its domestic business in the country. In addition, the cross-selling of solutions between MFEC Public Company Limited and the Company, along with the deep cultivation of relations with Japan-based companies progressing, especially in the financial sector, and the Company is beginning to receive joint orders for large-scale projects. Moreover, collaboration between the Group's overseas operating companies is in full swing, including the strategic partnership with Grab Holdings Inc., which operates the largest digital payment platform in Southeast Asia, with coordination on the enhancement of digital payment infrastructure and the development of new payment technologies in Southeast Asia and Japan. By continuing to strength the partnerships and alliances in ASEAN nations and utilize cutting-edge technologies and disruptive technologies, the Group will expand its IT offerings services and the Frontier Market Creation Business globally.
In light of the growing convergence of consulting and technology worldwide, which is becoming a competitive threat to traditional IT players, the Group will add "consulting" as a new axis, strengthen its presence and capabilities as a "consulting + IT" player by expanding its value chain, and accelerate global business development by focusing on the development of Next ASEAN.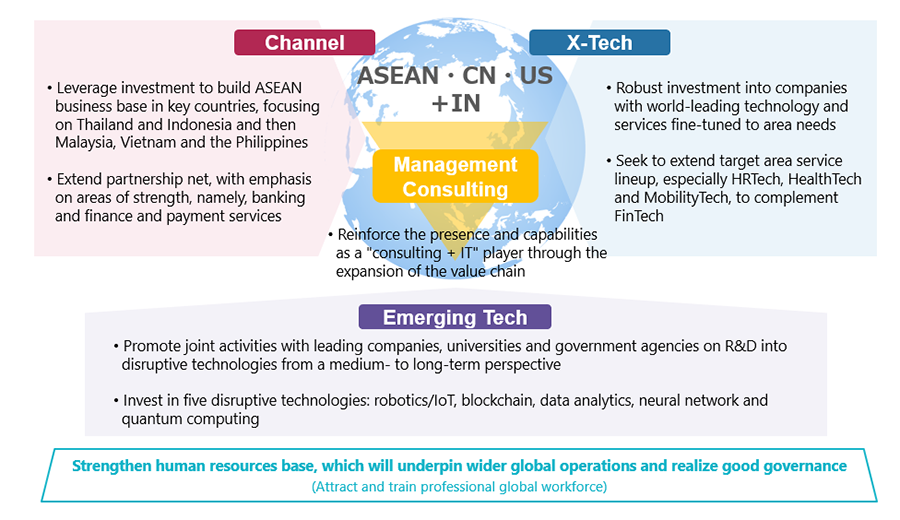 3) Advance and diversify human resources
In order to continue to enhance the value exchange between employees and Group companies, the Group will promote a human resources strategy focusing on diversification and advancement of individuals. In that, the Group will take on the challenge of improving engagement with employees through creation of an environment and organizational culture where diverse individuals can thrive, promotion of next-generation work-style reforms looking towards a new work environment, and advancement of human resource portfolio management by digitalization of a human resources database. Additionally, the Company will strive to strategically secure and foster advanced human resources in areas such as consulting, global business, and service business and will place them optimally.
The Company has long regarded human resources as its most important management capital and has actively promoted up-front investment in human resources. The Company has been promoting investment in human resources to increase employee engagement based on the three axes of the meaning of work, the working environment, and compensation. It will introduce a new personnel system in April 2023 to further promote the reform of the meaning of work and compensation. Under the new personnel system, the compensation, evaluation, and grading systems will be completely revamped to create a virtuous cycle of high added value for the Company, its employees, and society, thereby ensuring further growth of the Company and securing excellent human resources both inside and outside the Company who can contribute to growth.
4) Enhance Group management
Based on the Group's basic philosophy of "OUR PHILOSOPHY", the Group will strive to solve social issues through its business activities and enhance value exchange with stakeholders through management sophistication in response to social demands, thereby promoting sustainability management that seeks to both contribute to a sustainable society and continuously increase corporate value.
< TIS INTEC Group's Overall Vision for Sustainability Management >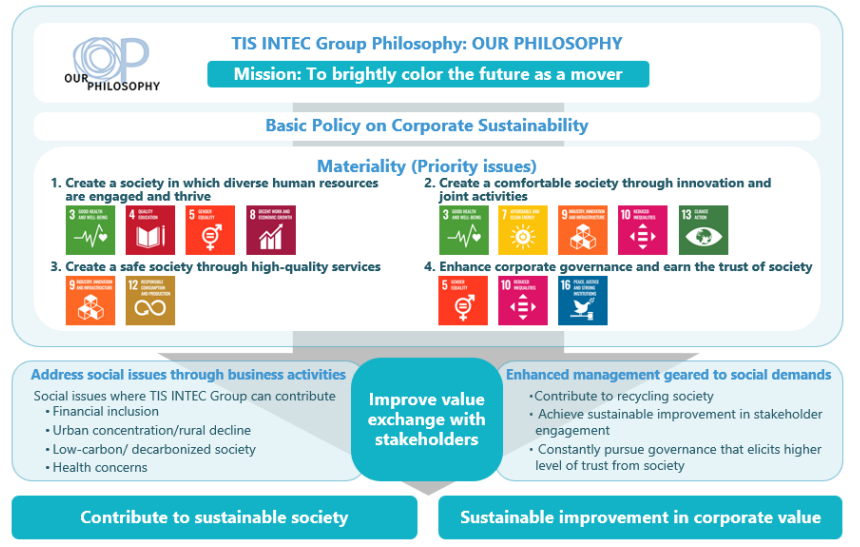 To date, the Group has established a system for enhancing sustainability management by means such as setting up a Corporate Sustainability Committee, identifying materiality and the four societal issues to resolve, and putting in place an implementation system to advance sustainability management, while promoting initiatives related to human rights and the environment, which are high-priority themes as urgent and important social issues based on the Basic Direction on Corporate Sustainability. In addition to continuing these initiatives, the Group recognizes that it is important to reevaluate not only the Group's direct corporate activities but also its corporate activities throughout the value chain, and the Group will strengthen its management system to establish a presence as a leading sustainability company by further deepening sustainability management.
In addition, the Group will continue to develop and strengthen its management foundation to achieve sustainable growth in an increasingly uncertain environment. The Group has established segment owners to clarify the focus of authority and responsibility, and is promoting the realization of growth strategies that leverage the strengths of each group company. The Group is also pursuing optimal group formation by restructuring the business portfolio through capital cost-conscious business management and M&A of domestic and overseas companies, and further upgrading and streamlining the head office functions including sharing inter-Group administrative operations. In addition, the Group will also promote the sophistication of investment management to earn appropriate returns as it aggressively executes growth investments (software investment, human resource investment, R&D investment, M&A and capital tie-ups, etc.) that will contribute to future growth.
At the same time, the Group will continue with strategic brand activities, including placing commercials on television and articles in advertising materials as part of efforts to increase corporate value and consumer recognition. At this point, the Group is beginning to see steady results in terms of improved recognition of the Group and corresponding benefits in terms of employee satisfaction and recruitment, but will continue efforts to strengthen the appeal of its service brand based on its corporate brand.