Issues Requiring a Response
As the adverse situation caused by COVID-19 pandemic has gradually eased and a new working environment has become widely established, the Japanese economy has shown signs of picking up. Looking ahead, however, we need to keep a close eye on the supply-side constraints associated with growing uncertainty in the global economy, downside risks from raw material price trends, and the impact of COVID-19, including the impact of new variants, on the domestic and overseas economies.
Under these circumstances, the Group has grown in the domestic market, mainly in the payments field, by building and stably supporting the important corporate infrastructure underpinning the business, and through the provision of speedy service provision with flexible responsiveness. Furthermore, we recognize that global value chain coordination may be provide the driving force to rapidly accelerate such business, and we have brought our business speed up to levels seen overseas and combined that with the Group's strengths in Japan in order to bolster our global competitiveness and establish a dominant position in the market.
In order to achieve further sustained growth, we recognize the need to further enhance our superiority in existing business areas in Japan and create and develop new businesses that will contribute to solving societal issues. To promote these initiatives, we will use digital transformation as a starting point to earn trust and establish a track record in the market and enhance the value we provide to our customers and society.
The Group aims to achieve continuous business expansion and contribute to the realization of a sustainable society through value exchange with all stakeholders.
And we have set the four challenges to focus on in realizing that goal: "enhance provided digital transformation value", "expand global business", "advance and diversify human resources", and "enhance Group management".
1. Enhance provided digital transformation value
In the digital transformation area, we will continuously work to expand our business as a DX partner for our clients, focusing on the strengths cultivated by the Group, including Japan's top-level payment field, data analytics, AI, robotics, healthcare, and energy management, to help reform clients' current business processes and infrastructure, and even help to innovate their business itself.
We have set "promotion of co-creation with stakeholders," "enhancement of digital transformation consulting functions," and "enhancement of IT delivery" as the initiatives necessary to improve the value of this DX offering.
In promoting co-creation with stakeholders, we will strengthen our development capabilities and promote our business by firmly combining the business know-how and delivery capabilities cultivated by our Group with companies that have abundant know-how and management foundations in their industries and business sectors.
In addition, as a conceptual capability to respond to societal and business issues, we consider the upstream consulting function to be important in developing strategies and shaping issues for the promotion and development of digital transformation, and will promote the training of personnel and strategic allocation of management resources.
Regarding the capacity to implement solutions provided with the aim of realizing the above, we will also continue to work on cost optimization and increasing the speed of our response.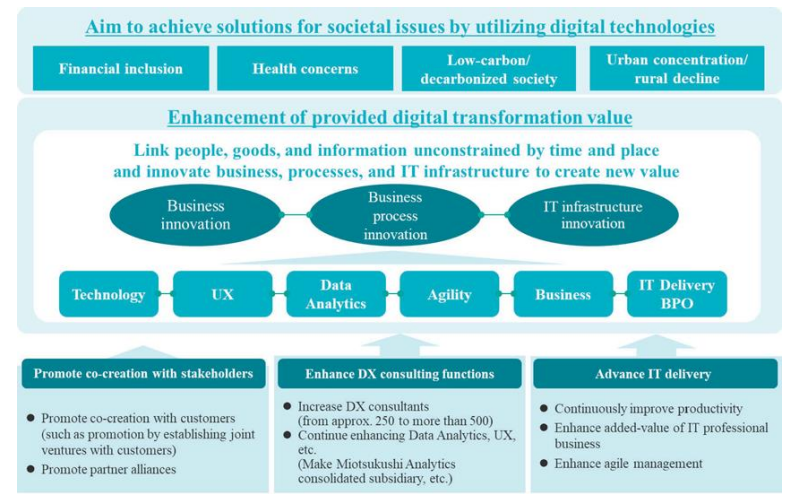 2. Expand global business
By strengthening the partnerships and alliances in ASEAN nations and utilizing cutting-edge technologies and disruptive technologies, the Group will expand its IT offerings services and the Frontier Market Creation Business globally.
Consolidated subsidiary MFEC Public Company Limited, is leveraging its position as a leading player in the provision of IT solutions for enterprises in Thailand to make good progress with its domestic business in the country. In addition, the cross-selling of solutions MFEC Public Company Limited and the Company, and the thorough cultivation of relations with Japan-based companies, especially in the financial sector, is progressing, and we are beginning to see results such as joint proposals for large-scale projects.
Moreover, collaboration between our overseas operating companies is in full swing in our strategic partnership with Grab Holdings Inc., which operates the largest digital payment platform in Southeast Asia, with coordination on the enhancement of digital payment infrastructure and the development of new payment technologies in Southeast Asia and Japan.
Additionally, we are continuing to pursue alliances with leading technology companies such as top-class Chinese blockchain technology company Hangzhou Qulian Technology Co. Ltd., and Contour Pte. Ltd. of Singapore, which is developing a trade finance platform utilizing blockchain technology.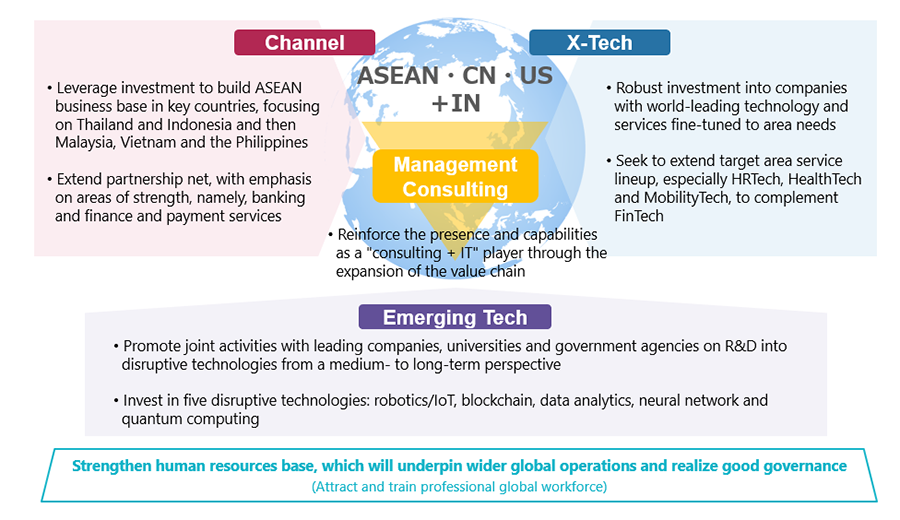 3. Advance and diversify human resources
In order to continue to enhance the value exchange between employees and Group companies, the Group will promote a human resources strategy focusing on diversification and advancement of individuals. In that, we will take on the challenge of improving engagement with employees through creation of an environment and organizational culture where diverse individuals can thrive, promotion of next-generation workstyle reforms looking towards a new work environment, and advancement of human resource portfolio management by digitalization of a human resources database. Additionally, to further accelerate structural transformation, we will make an effort to strategically secure and foster advanced human resources in areas such as consulting, global business, and service business and will place them optimally.
As an example of these efforts, we are promoting telework in remote areas to promote flexible work styles for employees, a new personal growth support system based on embracing autonomous career development, and an expanded life stage support system to support personnel in self-actualization and to provide support in various life stages.
Additionally, in the area of human resource recruitment, we are enhancing our various human resources systems and evaluation systems with the aim of strengthening our recruitment of highly sophisticated personnel. Our strategic branding activities have also helped us to approach and recruit the type of personnel who have been difficult to recruit in the past.
4. Enhance Group management
The Group has established a system for enhancing sustainability management by means such as setting up a Corporate Sustainability Committee, identifying materiality, and identifying four societal issues to resolve. In the medium-term management plan (2021-2023), the Group will promote achievement of priority management resource distribution in business activities that contribute to societal issue solutions identified. And it will enhance ESG, promoting contribution to a decarbonized and recycling-oriented society, sustained improvement of stakeholder engagement, and pursuit of corporate governance that enhances trust from society.
In the 2021 fiscal year, in addition to endorsing the recommendations of the TCFD and disclosing information in line with its framework, the Group is introducing the use of renewable energy in its offices and data centers. Additionally, we formulated and disclosed a human rights policy in accordance with the United Nations Guiding Principles on Business and Human Rights, and are developing a management system and various measures to identify negative impacts and risks associated with our business activities and to correct and remedy these.
With regard to governance, we will appropriately address, through the formulation of a Group tax policy, issues such as tax base erosion and profit shifting that arise as the Group's overseas business expands.
In accordance with our basic corporate governance policy, we are continuing with efforts to reduce our cross shareholdings, with the target of reducing the value of our cross shareholdings to 10% of the value of the consolidated net assets on our balance sheet.
In fiscal 2022, we sold off cross shareholdings in nine companies (including 100% of the shareholdings in eight of these companies), resulting in a reduction in the value of cross shareholdings to 7,538 million yen.
With the aim of further improving the effectiveness of business management, we are introducing business management with increased attention toward capital cost, promoting group formation management, expanding business through M&As of domestic and overseas companies, business portfolio restructuring, and sharing and further upgrading of inter-Group administrative operations.
At the same time, the Group will continue placing commercials on television and articles in advertising materials in an effort to increase corporate value and consumer recognition and also work on strategic brand activities. At present, we are seeing steady results from our branding activities, such as increased recognition of our group and the corresponding benefits in terms of employee job satisfaction and recruitment.
In an aim for continuous growth in this operating environment with increasing uncertainties, we will continue making growth-oriented investments (software investment, human resources investment, R&D investment, M&A and capital tie-ups), further advance investment management to gain appropriate returns, thereby achieving more growth than ever, and strive to enhance management governance to a level befitting a company listed on the Tokyo Stock Exchange's Prime Market.